Diamonds are for life! Hard and long lasting Macpactor 8 & 10 inch M-Trax Diamond Cleat
Macpactor manufactures a range of patented compaction products which facilitate the compaction of a wide range of materials, leading to greater productivity and cost savings.
Macpactor's Diamond range of landfill compaction cleats now come with an amazing industry first Machine Life /15,000hr warranty.
Multi-Directional Diamond
This option has slightly less traction but has the increased ability to rapidly reduce bulky wastes such as pallets, crates etc. It is ideal when working across the tipping face as the laterally opposed Diamond cleats give outstanding stability.
More weight for improved compaction
The Solid Fuse-Loc™ casting system produces the heaviest compaction teeth in the industry, increasing machine weight by between 2,500 to 3,500kgs (5,500 to 7,700lbs) – simultaneously increasing compaction.
Diamond Traction
This option is best suited to where traction is required and plugging may also be an issue. If there is a larger amount of C&D being disposed of, the robust design and material specification of this cleat will work the best.
Improved wear life
M-Trax Diamond's high chrome abrasion resistant alloy is backed by a machine-life / 15,000 hour warranty. The system guarantees unmatched wear life with maximum efficiency, increasing compaction.
Uniquely designed
On entry, each tooth splits the waste three ways thanks to its unique tri-action cutting design. This dramatically reduces waste particle size and increases compaction.
Fit and Forget
Maximum demolition
The elimination of side slippage when working across the face
The surface finish is improved, saving on cover
Cleat with high abrasion resistance
7,8 and 10inch height options
"I wanted to let you know that we did our end of the year volume analysis and in the first year of using the Diamond cleats and the new compactor on the MSW waste proves to make a significant improvement, as there was a 5% increase in waste across the scale but the airspace consumed is 36% less than last year's volume using Cat Plus cleats. The density of MSW for fiscal year 12-13 was calculated to be approximately 2,180 lbs. per cubic yard which is above the expected minimum."
Allen Annett – Carson City, Nevada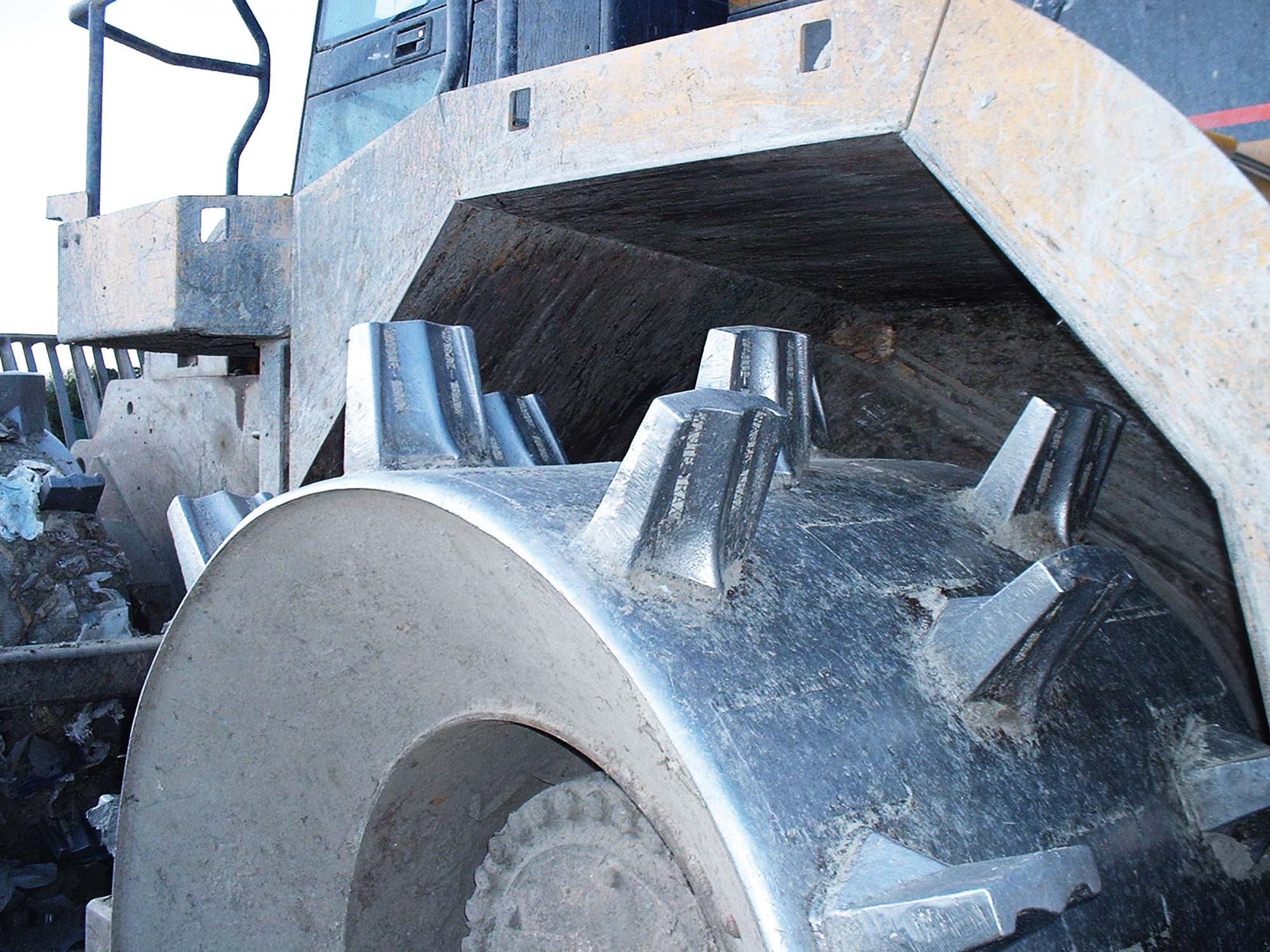 Waste-Trax
This is our budget option which is very popular worldwide as an end of life choice. It offers great traction and chopping of the waste but is not recommended when continually working across the face.
4 years / 10,000 hour Warranty
M-Trax 200
The M-Trax 200 has the same design features as the M-Trax Diamond range. Cast from abrasion resistant steel, this one-piece cleat will reduce the waste particle size with its tri-action 'M' design and facilitate the option of working across the tipping face.
5 years / 12,000 hour Warranty